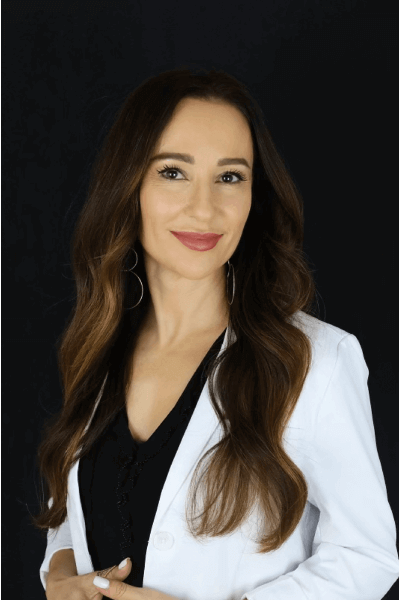 Dr. Simona Bartos is our experienced, Double Board-Certified Dermatologist, skilled in preventive and restorative skin care. She specializes in general cosmetic and surgical dermatology, including treatment for acne, eczema, psoriasis, warts, rosacea, hyperpigmentation, cysts, and more. As a fellowship-trained dermoscopist, Dr. Bartos is an expert in meticulous methods for diagnosing melanoma and offers state-of-the-art treatments for skin cancer. She also excels in creating natural-looking results through leading-edge cosmetic treatments to improve the vibrance and youthfulness of the skin. Her ultimate goal is to improve the lives of her patients through excellent dermatology care.
Dr. Bartos obtained her doctor of osteopathic medicine (D.O.) degree from Nova Southeastern University College of Osteopathic Medicine in 2016, followed by a transitional year residency at Broward Health Medical Center. After that, she pursued a fellowship in dermoscopy of melanoma and pigmented lesions at Skin and Cancer Associates. The next step in her training was completing her dermatology residency at Larkin Community Hospital in Miami, FL. Prior to medical school, Dr. Bartos worked as a certified physician assistant for several medical practices in Hollywood and Miami, FL.
Outside of work, Dr. Bartos prioritizes maintaining a healthy balance and enjoys staying active through running, competitive cycling, skiing, and playing beach volleyball.
Reviews
"Outstanding doctor! She finally found a diagnosis for an issue I've been dealing with since August of 2021. She was the only dermatologist who came to see me in the hospital to perform a biopsy, that the hospital would not do. She is very compassionate and caring! Most importantly takes her time with you, not like other doctors who makes you feel rushed. Highly recommend!"
L.P.
Google
"Great services provided by an amazing dermatology with awesome products and staff!"
Y.C.
Google
"This was my first time to a dermatologist and the service was exceptional. Doctor Bartos is very Informative and listen throughly to everything. You can tell that he cares. The whole staff is wonderful."
S.K.
Google
"This was our first visit. We were able to get an immediate appointment. The location is easy to find. There was available parking. The office is aesthetically pleasing. They provide coffee and water while you wait. The staff is super friendly and helpful. Dr. G. Bartos was awesome. Although we had some history with our issue, he took the time to explain and talk us through the treatment. So happy we found them. Highly recommend."
R.B.
Google
"Wonderful staff and amazing doctor! Dr. Bartos is an excellent doctor who listens and helps instantly! I'm recommending him to all my family and friends. Thank you to a wonderful staff !"
C.R.
Google
Related Posts